Welcome to our Author Interview series
Today we're featuring an interview with Dr. Jeffrey Mark Paull, author of A Noble Heritage: The History and Legacy of the Polonsky and Paull Family in America. Our author interview series provides an opportunity for our readers to get to know our authors on a deeper level and also learn more about the types of books we're publishing.
With graduate degrees from the University of Pittsburgh and Johns Hopkins University, Jeffrey Mark Paull was an environmental toxicologist and scientific expert witness in the field of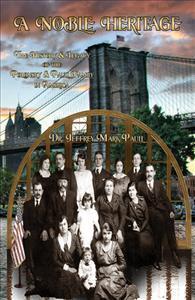 occupational and environmental health for many years. His interest in genealogical research was triggered during his experience creating a family history video presentation for his younger son Joshua's Bar Mitzvah.
Now retired, Jeff is a free-lance writer and author. He is heavily involved in genealogical research, and his article, Using Autosomal DNA Analysis to Connect Rabbinical Lineages: A Case Study of the Wertheimer and Wertheim Dynasties, appears in the winter 2012 edition of AVOTAYNU – The International Review of Jewish Genealogy. Jeff is currently working on his second book, The Shpoler Zeida: The Life, Legends, and Descendants of the Grandfather of Shpola. In addition to writing and genealogical research, Jeff enjoys playing tennis, and is an accomplished saxophonist and jazz musician.
Synopsis: A Noble Heritage
A Noble Heritage takes the reader on a fascinating journey of discovery, as Dr. Jeffrey Mark Paull captures the experience of a family of ancient and noble Jewish descent, over a millennium of European, Russian, and American history. Dr. Paull crafts an enthralling narrative, as he skillfully re-creates the astonishing story of how the Polonsky family's lost heritage, which dates back to the illustrious rabbi and biblical commentator Rashi (1040–1105) of medieval France, was rediscovered.
With a keen sense of historical insight, and a deep admiration of those who came before, Dr. Paull traces his ancestors' millennial journey across Europe, culminating with their immigration to America from Czarist Russia. He brings to light his ancestors' courage and fierce determination, their love for their new country, their remarkable achievements, and their assimilation into American culture and society. Family biographies are woven into a story of six generations of the Polonsky family in America.
Beautifully illustrated, meticulously documented, and embellished with hundreds of extraordinary photographs, this is a moving and compelling account of a family's journey from the old world to the new – a truly American story of universal appeal that has been skillfully and lovingly brought to life.
Author Interview
How did your book come about? Did you first decide to write a book, and then settle on a topic?
Actually, it was the other way around. I found the topic first, and the book kind of fell into my lap.
As part of the preparation for my younger son Joshua's Bar Mitzvah in June of 2008, I started working on a family history project. My original intent was simply to create a family tree to help better acquaint Josh with his relatives. Next, I began supplementing the tree with biographical information about each family member. From there, I took it one step further, and began searching for immigration records for my grandparents and great-grandparents.
Armed with that information, I decided to track down other members of my great-grandfather's family, the Polonsky family, from which my Paull family descends (my grandfather Americanized his surname from Polonsky to Paull). I succeeded in tracking down several of my Polonsky cousins, one of whom lived close by, and invited her to attend the Bar Mitzvah. Another of these newly-discovered cousins provided me with a classic family portrait of the Polonsky family, taken circa 1919. In the photograph was my grandfather, his parents, and all seven of his siblings.
About this time, at the recommendation of a family friend, I watched a movie entitled Everything Is Illuminated. The movie is about a young man who travels to the Ukraine in search of his roots. Inspired by the movie, I decided to create a family history video presentation about Joshua's roots, which he would narrate at his Bar Mitzvah. The DVD presentation combined all of the genealogical and biographical information that I had gathered, along with family photographs, and film clips from the movie.
Fittingly, Everything Is Illuminated became the theme of the Bar Mitzvah. At this point, the family history video presentation was just for the benefit of my family members and close personal friends who would be attending Joshua's Bar Mitzvah, and writing a book was the furthest thing from my mind. But when Joshua narrated the DVD presentation at his Bar Mitzvah, it had a powerful impact on everyone in attendance, myself included.
Inspired by the new family connections brought about by my genealogical research, and the incredibly affirmative response to Joshua's family history presentation, I began exploring our family history and genealogy in earnest following his Bar Mitzvah. As I say in the preface to my book, "From that simple beginning, the idea for this book was born. It almost seemed more a matter of "the wand picking the wizard" than the other way around."
Why do you think your readers are going to enjoy your book?
Most people enjoy going on a journey or an adventure. My book takes the reader on a great historical adventure, beginning in Medieval France around the time of the Crusades, and ending in modern day America. In-between, the book traces the history of a family of noble Jewish descent over the centuries, as they migrated across the European continent until they found themselves in the Russian Empire during the latter part of the 18th century.
As part of this journey, I guide the reader down the same path that I followed in discovering the family's ancient and noble heritage. By the time that the many wars, rebellions, pogroms, expulsions, persecutions, and other historical events behind this migration are explained, the reader has formed a strong connection to, and interest in this family.
The book then continues with the family's immigration to America. From their arrival at Ellis Island, and gradually spreading out across the continent "from sea to shining sea," six generations of the family have flourished and struck deep roots in the country that embraced them.
Biographical details for several hundred descendants and their individual families, obtained through a study of Russian and American censuses, ship manifests, immigration, birth, marriage, and military records, tombstone inscriptions, photographs, personal interviews, and much other material, are brought together to illustrate the growth of a family, proud of its origins and united through its family loyalty and love of their country.
This family has a great Jewish heritage to which different ethnic strains contributed to produce its quintessential American character. Although the book focuses on the Polonsky family, it is a universal story that anyone can truly relate to, and enjoy.
Did you already know a lot about your family's ancestry and heritage when you began writing your book?
On the contrary, I knew next-to-nothing about my family's ancestry when I began. As I explain in the preface of A Noble Heritage, "The limit of my knowledge regarding my own family's ancestry stopped at the doorstep of my grandparents. Beyond that, there was a vast emptiness." My original goal, as stated in my book, was simply to find out who my great-grandfather's parents and siblings were.
Never in my wildest imagination did I dare to dream that I would succeed in tracing my family's lineage back over one thousand years, to an eminent rabbi by the name of Yitzhak HaHasid Kalonymos, who was born circa 990 AD. His grandson was the famed biblical commentator Rashi (1040–1105) of Troyes, France. From Rashi, a great constellation of illustrious Jewish rabbis, tzaddiks (holy men), and community leaders in our lineage descend. How I discovered my family's noble heritage, starting with so little information is one of the great stories of the book, and my astonishing genealogical journey is explained in detail, so that others may follow.
How long did it take you to write your book?
I began the genealogical research in February of 2008, and began writing up the family biographies in June, but it wasn't until late September that I decided that I had discovered enough new and compelling genealogical information to actually justify writing a book. The first draft of my manuscript followed in October. It numbered less than 200 pages, and I hired an editor to review it. By late 2009, I had the lion's share of the genealogical and historical research completed, and the book had doubled in size. In 2010, I hired a second editor. Each chapter of the book went through numerous rounds of edits, rewrites, and revisions, while simultaneously, I continued to add new material and new chapters.
Throughout the process, I wrote nearly every day, generally for twelve hours or more at a stretch, most often at night. It was only later that I discovered that the reason that so many good writers choose to write at night, is because their mornings, afternoons, and early evenings have filled them with inspiration. It's also devoid of distraction, there's nothing else left to do in the day, and there's no one to hurry you. It's simply just you tapping into the inspiration that you've gathered from your daytime experience, and using that inspiration to create something interesting. There is a word to describe this method of writing, which dates back to ancient Rome – it is called lucubratio. It sounds grueling, and sometimes it was. You have to believe that you are on a mission in order to do it for years on end, and I certainly did feel that way.
By the end of 2011, my wife, along with one of my editors were suggesting that perhaps I had reached a point of diminishing returns, and that it was time to wrap things up. However, the book still did not quite reach the standards that I had set for it, and it took me yet another year of work before I was truly satisfied with it. Finally, in December of 2012, I completed the final manuscript. Now, after nearly five years of work, I can finally stand back and say that my book truly represents my absolute best effort.
Who designed the cover of your book?
Actually, I designed the cover. I wanted the cover to integrate three different design elements that were of symbolic importance to the Polonsky family – a classic family portrait taken circa 1919, the architecturally distinctive arched window of the main administration building on Ellis Island, where they first set foot on American soil, and the Brooklyn Bridge, symbolizing the place where the family settled after immigrating here. With the assistance of my wonderful graphic artist, my design for the book cover was skillfully and artistically brought to life.
What are you doing to market the book? Are you using social media?
I worked very closely with Authro to develop my website, www.ANobleHeritage.com, and they did a fantastic job on it. I will be presenting a paper at the 33rd International Conference on Jewish Genealogy in Boston this August, and I'm sure that I'll have the opportunity to do some networking while I'm there. I have done presentations for my local Jewish genealogical society, as well as my local library, and I am scheduled to do more such presentations. I also have a great administrative assistant who is helping me with my marketing. At this point, I haven't focused much attention on my Facebook page, and I'm not a big fan of Twitter.
Where did you grow up? How did your hometown (or other places you have lived) inspire your writing?
I grew up in Pittsburgh, PA, and attended Peabody High School, and the University of Pittsburgh for both college and graduate school. Growing up in Pittsburgh inspired my writing in a number of ways. First and foremost, I was fortunate to have had many great high school and college teachers, and parents who always encouraged me to reach my educational goals.
Then there is the environment. Authors and writers draw their cues from the world around them. With its unique mix of old-world and modern architecture, its many bridges, and its picturesque hills and rivers, Pittsburgh is a dream-world for artists, photographers, and writers. In addition to this, there is a charming character to the city. It's a city of neighborhoods, each with their own special unique character, which gives it a friendly, small-town feel. Pittsburghers are culturally and ethnically diverse, warm and friendly people, passionate about their sports teams, and very proud of their city. People seem to bond to the city, more so than in other places.
Finally, if you love a great underdog story, replete with sports heroes and legends, Pittsburgh is probably the best city in America to live in. The stage was set when Bill Mazeroski hit a walk-off home run in the 7th game of the 1960 World Series to beat the heavily-favored New York Yankees. Since then, there have been many more such magical sports moments in the City of Champions. The mix of hope, faith, dreams, athletic performance, accomplishment, and drama all coming together, season after season, is the stuff of which stories and legends are made.
Undoubtedly, I have honed my writing skills throughout my professional career, and all the places that I have lived – Cincinnati, the western suburbs of Chicago, Baltimore, and the San Francisco Bay Area – have informed my writing. My academic experience at Johns Hopkins University also played a large role in making me the writer that I am today. But the seeds for my writing career were sown in Pittsburgh. Now that I think about it, it's a mystery why more great writers and authors don't come from Pittsburgh!
Have you written your entire life? Have you always considered yourself a writer?
Although I was a science major in college, I was very influenced by one of my high school English teachers. He was the first one to recognize my writing ability and to encourage me to write. Through my college and graduate coursework, I honed my writing skills, and by the time I completed my doctoral dissertation, I was an excellent technical writer, with several scientific publications under my belt.
I was constantly writing scientific and technical reports throughout my career, so I got a lot of practice writing. I was always good at taking complex scientific concepts and making them understandable to the layperson. I also became very adept at organizing information, and supporting my inferences and conclusions with relevant facts.
This skill set has served me very well in my scientific career, so I guess that it shouldn't be too surprising that it also serves me very well in my genealogical research and writing, although writing a book was a much different kind of writing experience for me.
You have written books and articles in the fields of science and now, history. Have you ever given any thought to writing fiction?
Right now, I believe that my skill set is best suited toward writing non-fiction. I also find non-fiction books more compelling to read, and I have always maintained that truth is stranger and more interesting than fiction. However, I also have a very active imagination, and I have toyed with the idea of writing a science fiction or mystery novel at some point. I used to read a lot of comic books as a kid, and I still have that childlike sense of curiosity, fascination and wonder. I'm also a big fan of Dan Brown's books, as well as the entire Harry Potter series. I'm pretty sure that there is a fiction story or book lurking somewhere inside of me, waiting to be written someday.
What are your thoughts on self-publishing verses traditional publishing?
It appears to me that the nature of the publishing business has changed rapidly over the last ten years. It is much more accepted for legitimate authors to go the self-publishing route than it used to be. It is the ideal way to publish for those authors who want to maintain artistic and literary control over their work. Not having to worry about whether your book will get accepted for publication by a traditional publisher removes all of the uncertainty and doubt from the equation. It provides new authors like myself with an affordable way to get their work out into the marketplace, and provides them with the opportunity to build a platform.
Famous authors, actors, and athletes may not have any need for self-publishing, but for most of the rest of us, it is a great way to go. It will interesting to see where the publishing business will be ten years from now, but it wouldn't surprise me at all if self-publishing continues to grow in popularity.
Why did you decide to publish with Infinity Publishing?
I don't have the patience to adjust to the snail's pace of traditional publishers where you might have to wait weeks or months for responses to even the simplest enquiries. At Infinity, there is always someone there to answer your questions, and to assist you in guiding your book through the publishing process. I really appreciated being able to speak with my author representative directly whenever I had a question. If she wasn't immediately available, she would quickly respond to my email message, often the same day, or by the next business day. This type of responsiveness and level of personal service is especially important for first-time authors.
In addition, my book, which contains well over 660 pages, and close to one thousand photographs and art illustrations, poses quite a challenge for most self-publishing companies, which are simply not set up or equipped to publish books as complex as mine. Infinity Publishing was one of the few self-publishing companies that could handle an 8½" by 11" full-color hardcover book like mine, and I am very pleased and satisfied with the final product!